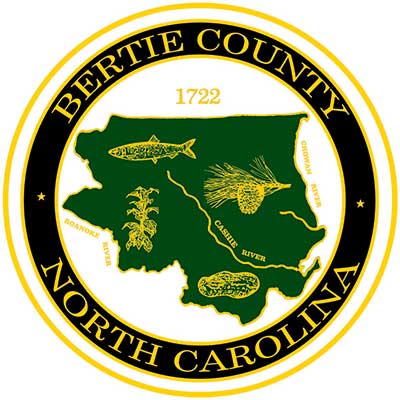 Bertie County History
Bertie County is one of the largest counties in North Carolina, spanning 741 square miles. It was originally part of Albemarle County, established in 1660. In 1670, Chowan County, including Bertie Precinct, was cut from Albemarle County. Bertie Precinct was finally given status of county in 1722 when it separated from Chowan County. Initially, Bertie County was comprised of present Bertie County, Tyrrell County, Edgecombe County, Northampton County and Hertford County. By 1780, Bertie County had been divided to resemble its current shape.
| | |
| --- | --- |
| Bertie County was named for James and Henry Bertie, who had purchased land from the original Lord Proprietors. Bertie County's county seat is Windsor, which was established in 1766 and was made county seat in 1774. The County includes the eight incorporated townships of Askewville, Aulander, Colerain, Kelford, Lewiston-Woodville, Powellsville, Roxobel and Windsor. | Bertie Family Crest |
Bertie County is comprised of fertile uplands and lowlands, with some large swamps called pocosins, making Bertie County ideal for agriculture. In addition, the timber industry is key to the area. Livestock and the growing poultry industry, which focuses on broiler production, are major contributors to Bertie County's agriculture base.