Hurricane Irma
Good Morning, as we continue to monitor Hurricane Irma she is still shifting towards the west towards Charlotte and the Tennessee border. Monday we anticipate minimal effects from Irma only having rain and minor winds (5-10 mph). We will continue to monitor and unless any major track shifts this will be the last update from Bertie County Emergency Services.
Today
Sunny, with a high near 78. North wind 3 to 5 mph.
Tonight
Mostly clear, with a low around 57. Light northeast wind.
Saturday
Sunny, with a high near 76. Northeast wind 6 to 10 mph.
Saturday Night
Mostly clear, with a low around 56. North wind around 8 mph.
Sunday
Mostly sunny, with a high near 73. North wind 10 to 14 mph.
Sunday Night
Mostly cloudy, with a low around 62.
Monday
Mostly cloudy, with a high near 75.
Monday Night
Showers likely after 8pm. Cloudy, with a low around 67. Chance of precipitation is 70%.
Tuesday
Showers likely. Mostly cloudy, with a high near 79. Chance of precipitation is 60%.
Tuesday Night
A chance of showers before 2am. Mostly cloudy, with a low around 67. Chance of precipitation is 30%.
Latest from NCEM below
Key Takeaways:
· Statewide impacts are still expected despite a westward shift in the track
· General impacts from Hurricane Irma will begin late Sunday night into Monday morning from south to north
· Impacts from Irma will be felt far from the center
Tropical Outlook:
Hurricane Irma remains a very powerful hurricane with maximum sustained winds of 150 mph as it currently tracks north of Cuba. The official NHC track has shifted westward, but track errors at 4 days are almost 200 miles so it is still too early to pinpoint exact track and potential impacts from Irma. NC is still likely to experience statewide impacts. The general timeline has remained the same, with the greatest potential impacts expected Monday and Tuesday.
Preliminary rainfall forecasts indicate 1 to 5" with locally higher amounts across the mountains and SC border with lower amounts in the northeast counties. Inland flash flooding in low-lying and flood prone areas remains possible, increasing the potential for dangerous travel conditions. Minor main stem river flooding is also possible along with the threat for isolated tornadoes. With the fires in the west last year, newly established vegetation may allow for an increased landslide threat. With the current track, maximum sustained winds of 25-30 mph with gusts up to 50 mph are expected. With these conditions, downed trees and scattered power outages are anticipated. Minor coastal flooding is expected across the coastal areas and could contribute to minor beach erosion. Small craft advisories and rip current risks are already in effect for New Hanover, Brunswick, Carteret, Onslow, Dare, and Hyde counties.
Elsewhere in the tropics, Hurricane Jose currently has maximum sustained winds of 125 mph and is moving toward the west-northwest near 16 mph. A west-northwestward track is expected to continue for the next couple of days. At this time we cannot completely rule out potential impacts late next week, but it appears Jose will remain to the east of North Carolina. Hurricane Katia is not a threat to NC as it will make landfall and weaken over central Mexico.
Be sure to obtain your Tropical Weather updates from trusted sources such as the National Hurricane Center (NHC), the National Weather Service (NWS), and North Carolina Emergency Management (NCEM).
<![if !vml]>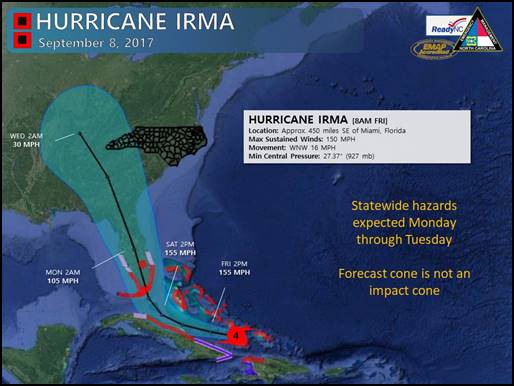 <![endif]>